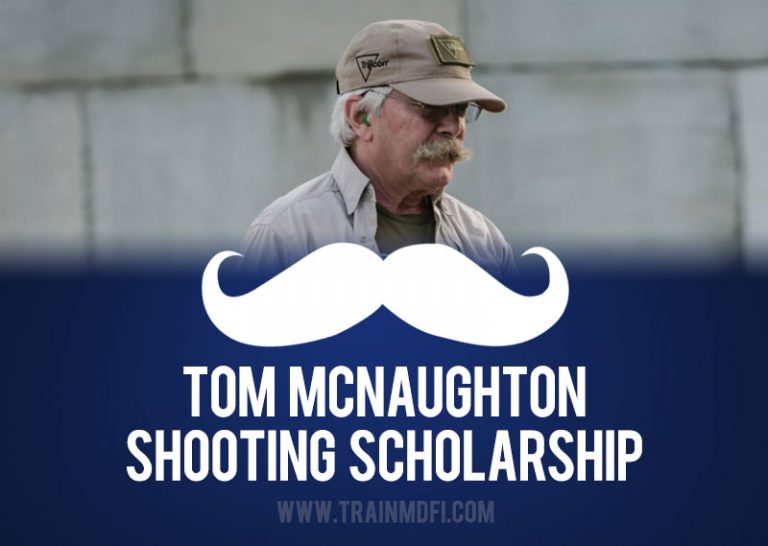 HUSBAND. FATHER. GRANDFATHER. BROTHER. UNCLE. VETERAN. WARRIOR.
PATRIOT. HERO. TEACHER. STUDENT. PROTECTOR. OUR FRIEND.
GONE. BUT NEVER FORGOTTEN.
Years ago, MDFI was blessed to meet a man of short stature, incredible character, amazing mustache, and a big ol' Glock 10mm: Mr. Tom McNaughton.
A decorated Vietnam combat veteran, Tom showed up to his first MDFI class looking to learn about "what he did not know" as it had been decades since his last formal firearms training session. Eager to soak up information whenever possible, Tom's bright personality and passion for learning at every opportunity made him an ideal student, great shooter, and a wonderful friend.
"Tom was with us at every turn, and added so much life to our classes both on-and-off the firing line. When I took over the helm of the Michigan Defensive Firearms Institute, Tom was one of a select group of benefactors who were paramount in our ability to stand-up MDFI, and make it into what it is to this day." – Trek
Tom always talked about his desire to learn, and stressed the importance of training as it pertains to the responsible citizen.  Regardless of any challenges he faced, Tom fought to get the most of his time on the line with MDFI, and all of his friends in the training industry.  Because of Tom, we were blessed to get to know his family who were introduced to training due to his passion and desire for learning.  Tom McNaughton epitomized our very definition of a responsible citizen, and all who spent time with him carry his torch to this day.
Even with the loss of our cherished friend, we know that Tom's legacy will continue in his amazing family, and all of us that had the privilege of having Tom affect their lives. To ensure that Tom's desire for training lives on, MDFI is enacting the "Tom McNaughton Shooting Scholarship" program.
On 1 October of each year, MDFI Cadre will select a young shooter from the Alumni submissions and the recipient of the Tom McNaughton Shooting Scholarship will receive a full year of free tuition the entire MDFI curriculum with loaner firearms and required ammunition for the following full calendar year.*
*Scholarship winner may attend ONE of each MDFI class in the calendar year with supplied ammunition, firearms and tuition free.
TO QUALIFY
Any person age 14 to 18 who is a child of an MDFI Alumni member
Epitomizes the traits of a responsible citizen
Has a desire to gain competence and confidence with firearms
HOW TO APPLY
To make a submission for the Tom McNaughton Shooting Scholarship, please type up your entry on why you believe your nominee fits the qualifications and should receive this scholarship.
The more detail, the better we can understand why they deserve the scholarship.
Email your entry to: info@TrainMDFI.com with "Tom McNaughton Shooting Scholarship Nominee" in the subject line.