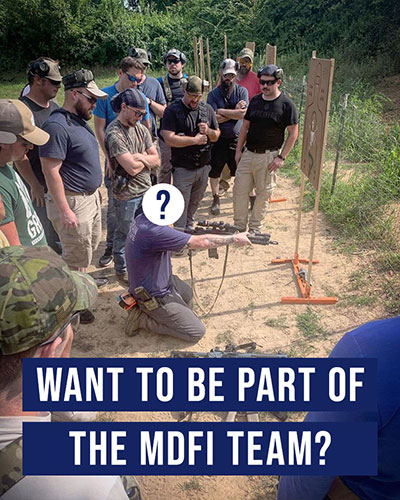 Effective immediately, MDFI is accepting applications for the position of Assistant Instructor. If you are interested in joining the MDFI Cadre, this is your chance!
If you are interested in being an important part of the teaching staff who will assist in the successful completion of MDFI training events, please keep reading.
JOB DESCRIPTION:
Assistant Instructors are an integral part of the MDFI team's ability to successfully conduct firearms courses and hosted events. They help their fellow cadre members run classes that are as safe, fun, and educational as possible through identifying proper and improper firearms handling, giving feedback and taking corrective actions as needed, effectively communicating with cadre leadership, and assisting in student growth with professional interpersonal skills.
POSITION REQUIREMENTS:
Be a US Citizen or Naturalized US Citizen
Be a resident of the State of Michigan
Be a member of the MDFI Alumni
Possess a valid Michigan Concealed Pistol License or Law Enforcement Credentials
Have reliable personal transportation
Own a centerfire 9mm handgun, .223/556 Caliber AR15 rifle, a 20/12 gauge pump or semi-automatic shotgun, and associated equipment (holster/magazines/etc)
Know, understand and apply the Four Rules of Responsible Firearms Handling at all times
Have interpersonal skills needed to professionally communicate with students, coworkers, and the public
Be able to pass all MDFI Foundation Level Qualifiers at "Advanced" level on demand
Have the physical stamina to endure up to 10-hour days in all weather conditions and the physical fitness to demonstrate all course material properly and without struggling
If you are interested in becoming part of the MDFI Team, please send a letter of intent and simple resume to Trek@TrainMDFI.com. 
Applicant process is: Letter/Resume review, In-person Interview (if selected) and then a Shooting Evaluation (if selected). Those that complete the process will be eligible to join us for the 2023 Outdoor Training Season.
The application window is effective immediately until 5PM EST on 28 February 2023.